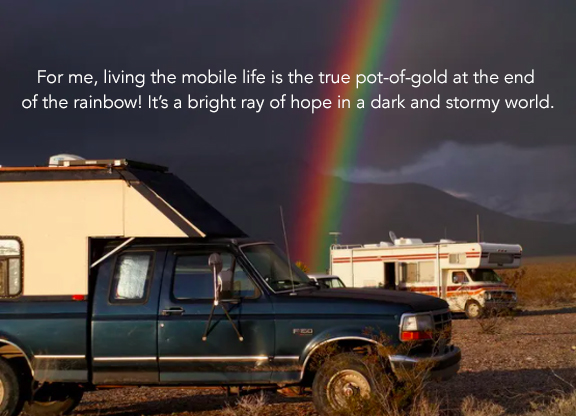 "Twenty years from now you will be more disappointed by the things that you didn't do than by the ones you did do. So throw off the bowlines. Sail away from the safe harbor. Catch the trade winds in your sails. Explore. Dream. Discover."  —Attributed to Mark Twain
Do these words stir a fire deep within you, awakening a spirit of wanderlust and travel? Maybe you were a gypsy, vagabond or hobo in a past life, but you think you could never afford to live the life of freedom you long for? It could be you are a survivalist, or just want to drop out of society but don't know how. Perhaps you are just sick of the rat race and want to simplify your life. Or possibly the bad economy of the last few years have left you with no choice but move into a car, van or RV?
We have good news for you, you can, and this site is here to show you how! The key is eliminating the single highest expense most of us have, our housing. We will do that by moving into our vehicle and "boondocking." By that I mean living in your vehicle without paying for a campsite.
"You've got a lot of choices. If getting out of bed in the morning is a chore and you're not smiling on a regular basis, try another choice".  —Steven D. Woodhull
People say to me all the time, "But how can I afford to live in a van and travel all the time?" My answer is aways, "How can you afford not to?!" Let me prove to you right off the bat that you can live the free life. Here is a budget showing just how little money you need to live and travel full time. One column is for a $500 a month and the other is for $1,000 a month.
Of course, at $500 per month this is a sparse life, but I am just showing you that it can be done. In fact I personally know dozens of people who live in their vans and make much less than $1,000 per month, so I know for a fact that it can, and is, being done right now. That still leaves us with the question, where will the money come from? Let me show you some simple strategies for living the cheap RV lifestyle.
1) Move Into Your Vehicle and Save your Rent/House Payment
You are probably working at a job right now and paying for an apartment or house. The first thing you do is decide what type of vehicle you want to live in and purchase it. Then you have a garage sale and sell as much of your excess stuff as you can, and give the rest away. Then you move into your vehicle. Now this is very important, you open a savings account and the money you used to pay to your landLORD for your apartment or house payment (including the utilities) you start paying to yourself instead by putting the payments into the savings account instead. Now you alone are the LORD of your life! The hardest part is that it will soon turn into a lot of money and you will be tempted to spend it. Don't do it! Leave it there unless it is a total emergency. If you are currently paying $600 a month for rent and utilities, then at the end of the year you will have saved $7,200. Now you can travel for the next 7-14 months without working. Or if you work intermittently, you can extend that even further.
2) Alternate Work and Travel
So, we take our $7200 and leave on our new life of freedom until we need more money. Then, we choose a place we want to be for a while, stop there, and get a job paying as much as we can, but at least $7 per hour . For that month we take home about $1000. We spend half of that to live on, and now have $500 in savings. Actually, we should have more since we won't be driving much (some of us will ride our bike, scooter or motorcycle which we are carrying on a bike rack or trailer). So we can take that $500 and are off again. Or we can spend several months at one place and then travel several months. Maybe you like to ski so you spend three months at a ski resort working and skiing on the weekends. Then you have the next three months off to do whatever and go wherever you want. When you need to work again, you drive up to Glacier National Park and get a job there doing dishes at the resort. You spend your summer weekends hiking and taking pictures. Three months later, you are free again. Or maybe you are a history buff. So you drive to Gettysburg and get a job there. You spend your weekends exploring the Amish country and Philadelphia. You then go to New England to photograph the fall colors and spend a month exploring Washington DC. When you need to work again you drive to Orlando or Miami, get a job, and explore Florida. If you are adventurous you can work your way down to a beach resort in Mexico where you work for the next three months and surf, fish and snorkel on your weekends. Working in the tourist industry you probably double your wage in tips and living in Mexico is very cheap so you save even more than usual. Now you can take the next six months off in the U.S., or maybe nine months off in Mexico. You keep doing this to your heart's content!
3) Live on a Pension
Or maybe you are like me. I took early retirement with a pension of about $1100 per month and I don't have to work at all unless I want to for whatever reason. I am young and healthy so I am working as a campground host in some beautiful places. That way I can build more of a savings account or spend more as I want. Many people have social security or disability checks they live on.
4) Work While You Travel
With a little creativity you can find ways to make money while you travel. The possibilities here are endless, only limited by your abilities and imagination. With access to the Internet, many traditional jobs can be done remotely as you travel. Here are some possibilities but they are just to jump-start your thinking. There are many books and websites with a huge selection of ideas:
Work Camp as a campground host

Make crafts and sell them

Buy and sell on Ebay 

Create works of art and sell them

Handyman services

House painting

Animal grooming

Auto detailing

Knife Sharpening

Web Site, YouTube and other social media

Photography

Sewing

Accounting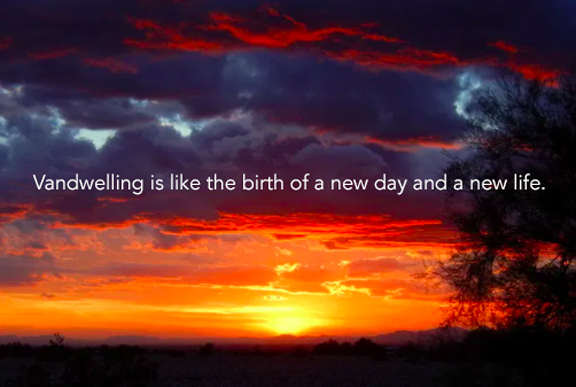 This life can be for you if you want it! We have shown that you can live on very little, and four ways to make the little money you do need. So what is holding you back? For most of us it is fear. Let's address that and show you a simple strategy to overcome your fears.
"I will not die an unlived life.
I will not live in fear
of falling or catching fire.
I choose to inhabit my days,
to allow my living to open me,
to make me less afraid,
more accessible;
to loosen my heart
until it becomes a wing, 
a torch, a promise."
—Dawna Markova
Overcoming our fears
This is a tough one. Many of us live lives of quiet desperation, hating our jobs, and just enduring our life. We meet our obligations and conform to societies dictates. On the surface, all looks good. But on the inside is a desperate but muffled cry for a life of passion, adventure and travel. Summed up in one word it is a cry for FREEDOM!! This is probably overstating it, but if you look at your life, you can probably find some element of it in there. What holds us back? Why can't we break out of our rut into a new and exciting life? For most of us it is fear. We have an unconscious fear that "An unpleasant but acceptable present is better than an unknown and dangerous future." So, how do you overcome your fears? Allow me to lead you through an exercise to overcome a fear.
The first and hardest step is to take an unflinching look at ourselves and identify the fears that hold us back. I'm going to list a few possibilities, but remember this is just a starting place, you must do the hard work of finding your own fears.
 Fear of going broke and being homeless and penniless.

 Fear of being alone and lonely.

 Fear for my physical safety

 Fear of failure.

 Fear that I'm not good enough.

 Fear of what others will think.

 Fear of the unknown.

 Fear that I'm Too Young
After you have identified your fears, accept them, even embrace them; they are a natural instinct given to us to keep us safe and from taking stupid risks. They are a good thing unless we let them paralyze us. When that feeling of fear and panic starts to well up from your gut, take a really deep breath and literally thank it for the wise warning it's offering you. Then assure it you will consider the warning very seriously. This may seem very "new-agy" but try it any way.
Next, address the fears and find solutions. There are solutions to every problem! On this page we have presented a solution to one of our biggest fears: that we will run out of money and be indigent. We've seen just how little we need live on and how to make the money we need.
But reading about it won't ally your fears, you have to take steps so start right now doing your homework:
Record all your expenses so you know where your money is going.

Decide what is really important and spend your money only on those things.

Write up a detailed budget and follow it, or do something simple like at the beginning of every month put cash in envelopes for each category of spending.

Start researching new ways to make money

Increase your work skills and gather the necessary tools for an on-the-road job.
Now, when that fear wells up again, gratefully embrace it and say, "Thank you for the warning, but this is a safe risk. Look at my budget. Here is my savings account for emergencies. This is how I will make more money. Everything will be alright," You may have to do this many times, but eventually your fear will turn to hope as it embraces your new life. Then, come, and join us as we travel the road of carefree destiny.