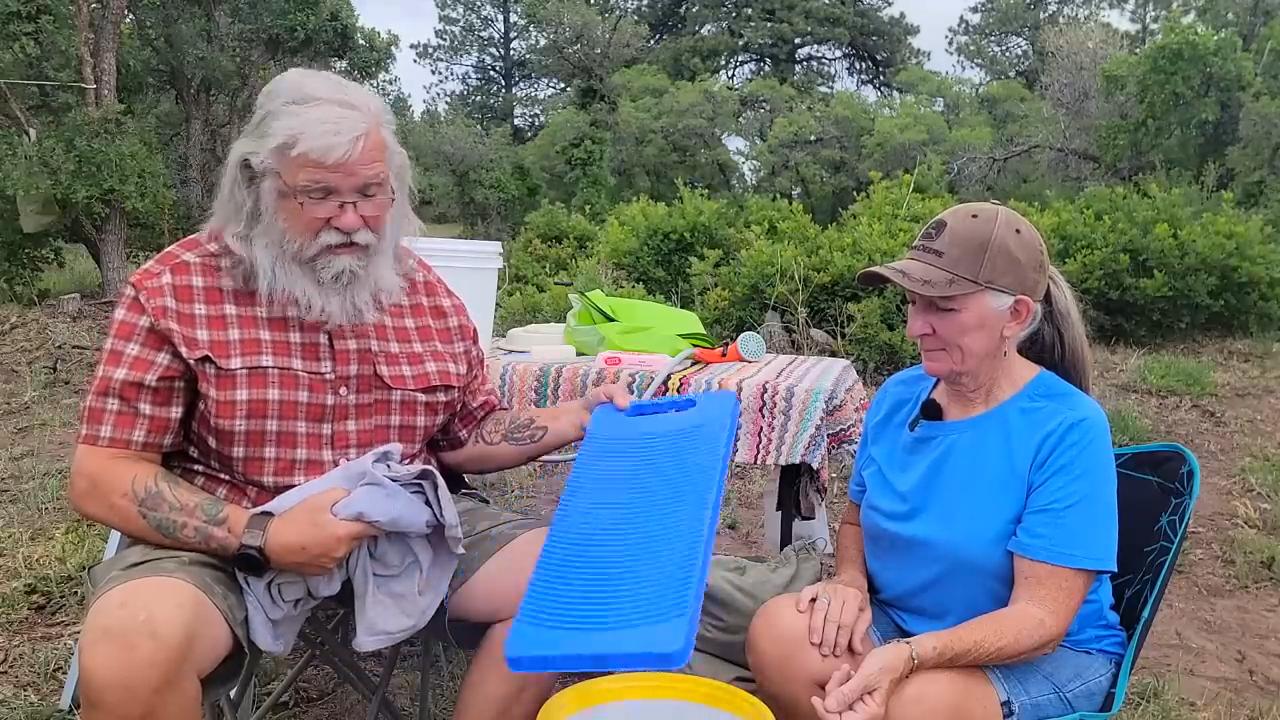 Washboards have been around for a long time and are simple to use. Paired with a 5-gallon bucket, you can easily wash clothes and skip the laundromat. Nesting your laundry bucket outside one you likely carry anyway, takes up nearly no extra space or weight. Here is how we did laundry with a washboard and a 5-gallon bucket.
Pretreat Stains
I started by pretreating the ring around my collar. I keep Dr. Bronner's Pure-Castile Liquid Soap and water in a one-quart bottle and use it to spray on all my clothing stains. The sooner, the better!
Mix a Washing Solution
I believe most people wash their clothes too often and use too much soap. We mixed up a washing solution using a bar of Zote Soap instead of a powdered or liquid type. It's easy to apply directly to a stain if needed too. Dr. Bronner's Pure-Castile Bar Soap would have also worked, and neither is harmful to the environment.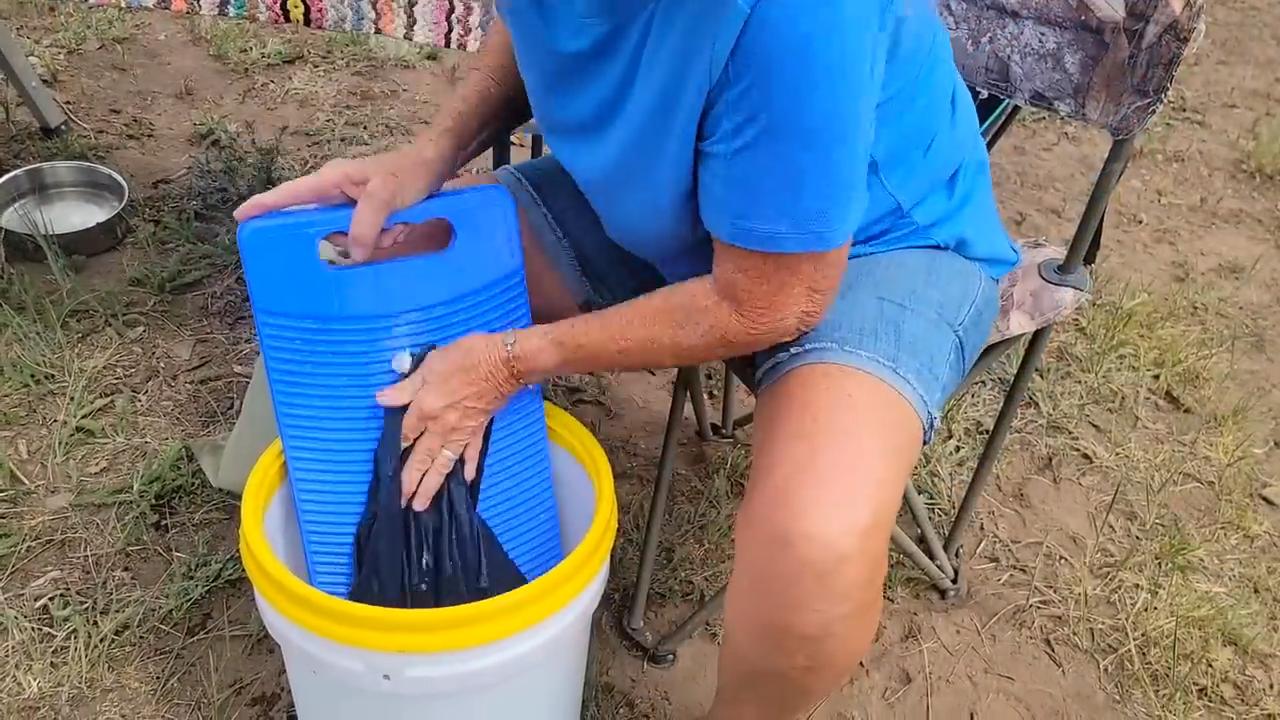 With 1.5 gallons of water in the bucket, Linda soaked my t-shirt and washed it, moving it up and down the board's grooves. You will want to rotate the item, paying close attention to areas with stains. We found the board can also be used similarly to a washing machine agitator by moving it around while holding the handle.
Several years ago, I met a man who used the plunger-type washing wand and wrote about his particular method in this post https://cheaprvliving.com/kb/laundry-five-gallon-buckets/. The washboard is so versatile and at 9 by 20 inches it is just the right size for the bucket.
Rinse and Dry
Rinse with clean water, and squeeze out the excess. We hung a line with some paracord and left everything out to dry for a few hours.
Conclusion
The shirt came out as clean as it had ever been. The collar started out very dirty, and even it was clean. This system was fast and easy. I'm extremely happy with the results.
One of the things that can really destroy your clothes is the electric clothes dryer, especially with high heat. Because I'm impatient and don't like being at the laundromat, I use the highest heat setting to get out of there sooner. This avoids all that.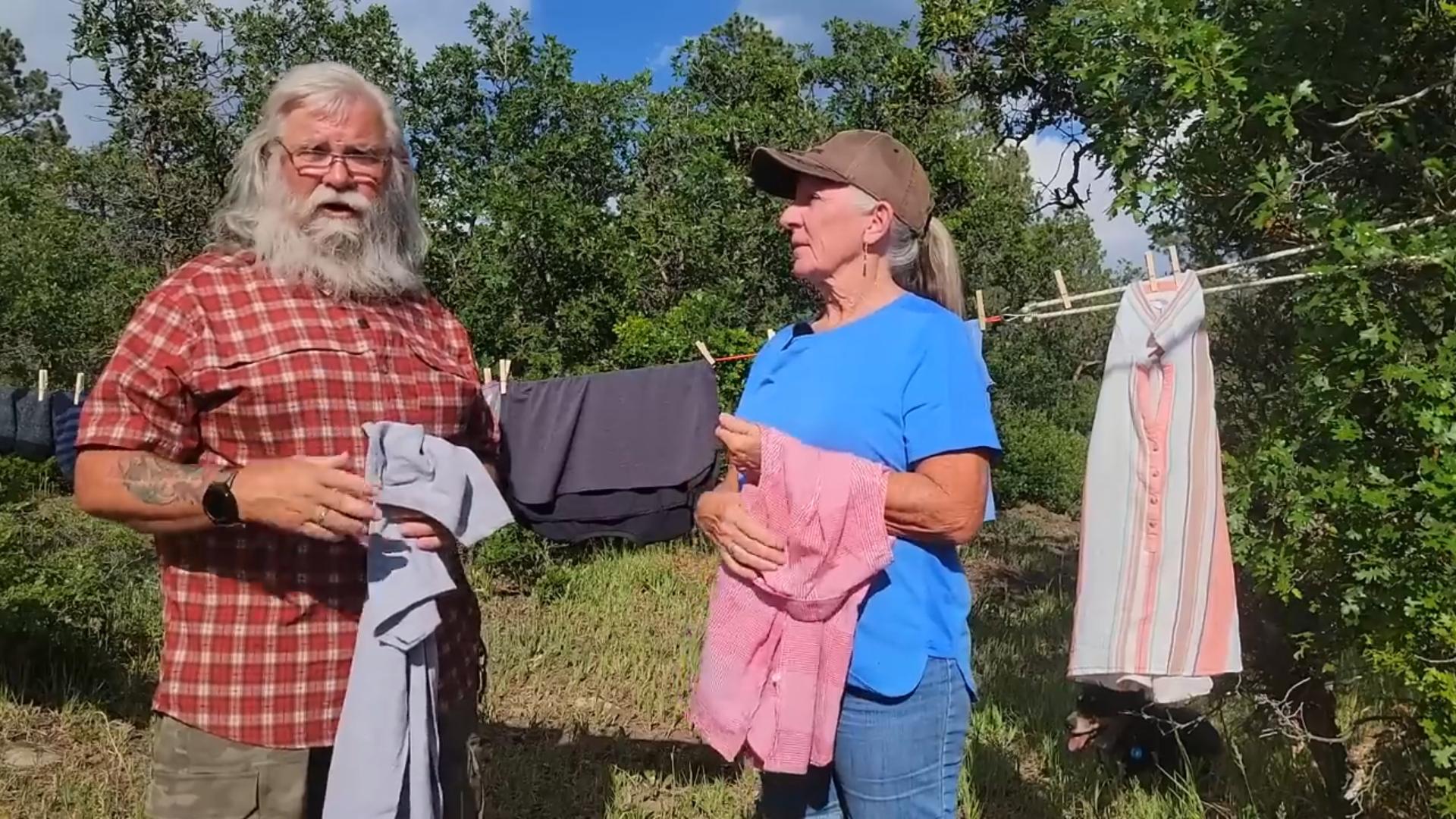 Regular machines use so much electricity and water. We used less than five gallons of water and no electricity to do all these clothes. This method is much better for the environment and easier on your clothes. My clothes will last longer without using such high heat to dry them.
This washboard and 5-gallon bucket method takes up just a little extra space in your rig and weighs nothing. It was even kind of fun!
Other Clothes Washing Options
I tried the Scrubba Portable Wash Bag a couple of years ago, and in this video, I explain why I may or may not ever use it again.
Here, my friend Randy demonstrates his Costway Portable Washing Machine. See why it is in his top 5 for "must haves" while traveling.