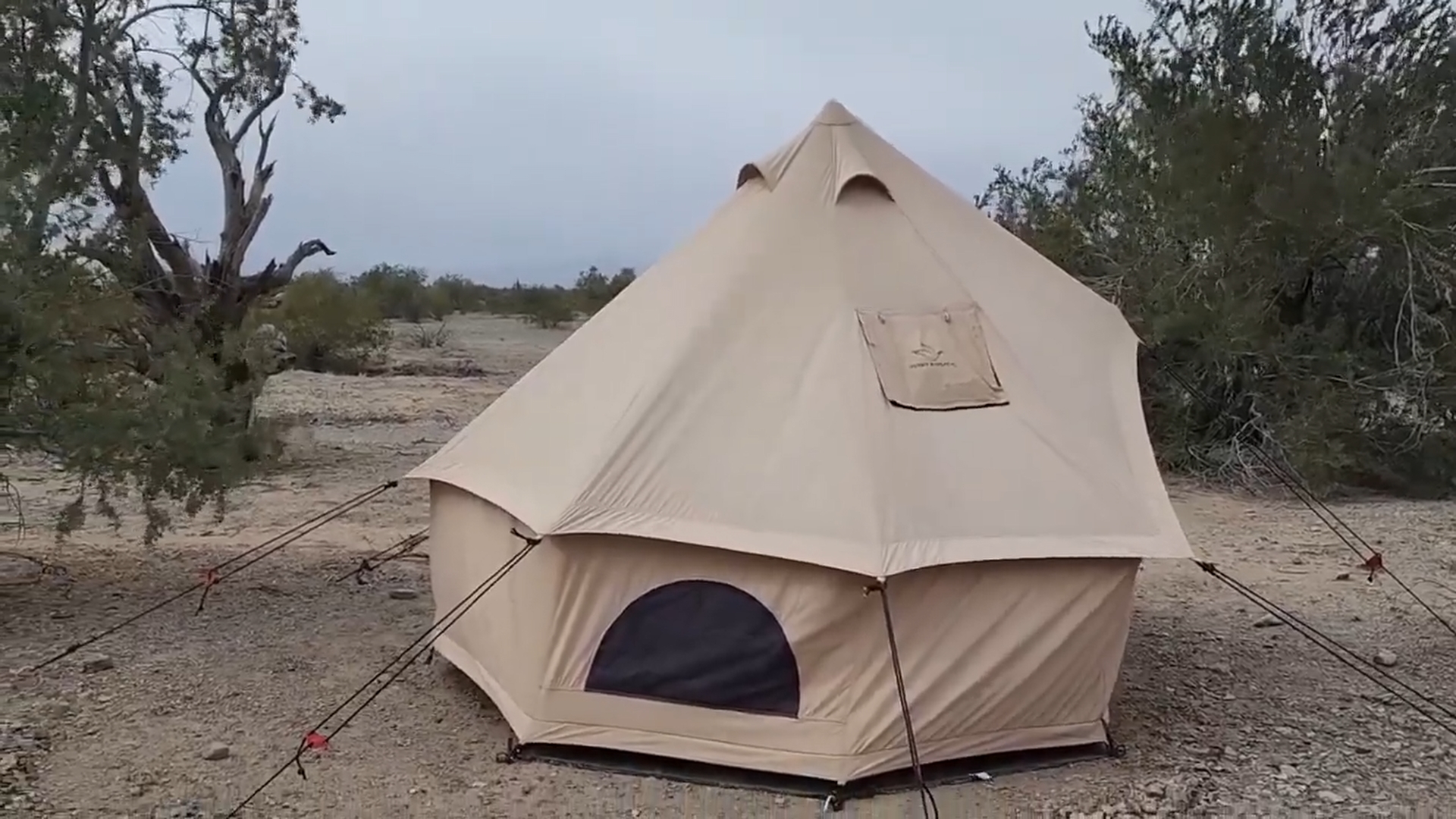 A TENT MAY MAKE YOUR LIFE tremendously better as a nomad. Getting some things out of your rig and into a tent can really open up your space. In bad weather, a good tent that holds up well will keep you from being confined to just one place. This is especially true for smaller rigs where you cannot stand and move around.
Nomads live OUT of their vehicles
Creating a living space outside of the vehicle is really helpful. A lot of us want to maintain our health on the road. A tent can be used as a private space for cooking or exercise with protection from the elements. I've known several artists on the road who want a studio. These spaces can be created with the right tent.
I decided to try the WHITEDUCK Regatta Canvas Bell Tent and have been using it for well over 6-months. Overall, I prefer canvas to nylon tents. For me, their pros far outweigh the cons.
Canvas vs Nylon Tents
Canvas Tent Cons
Expensive: The initial cost is expensive. If this option allows you to stop paying rent, the savings can add up fast. If you are waiting to save up for a van or to find the right one, this can really be a good option in the meantime.
Bulky: They come in a big bag. The canvas is also made of heavy material. Finding a place to fit this can be a problem if you are in a car.
Difficult to Set Up: This tent relies on stakes to hold it up. It won't stand on its own. Follow the instructions. There is a learning curve.
Slow to Dry: If you have extended bad weather, lots of clouds, or rain all the time, this will get wet and stay wet, canvas is cotton and dries slowly. Because it's slow to dry, it's more susceptible to mold and mildew.
Canvas Tent Pros
Durability: This tent will last for years. Canvas is a more durable material. It is less susceptible to sun damage, rain, and wind. 
Quiet: In a heavy windstorm, you can sleep in this without loud, constant flapping.
Warm: The fabric is heavy and retains heat better. This will let the moisture out and is watertight.
Simple: It's a simple, proven design. There aren't a bunch of flimsy fiberglass rods involved that will snap on you. This has one big steel tube inside that I don't anticipate breaking.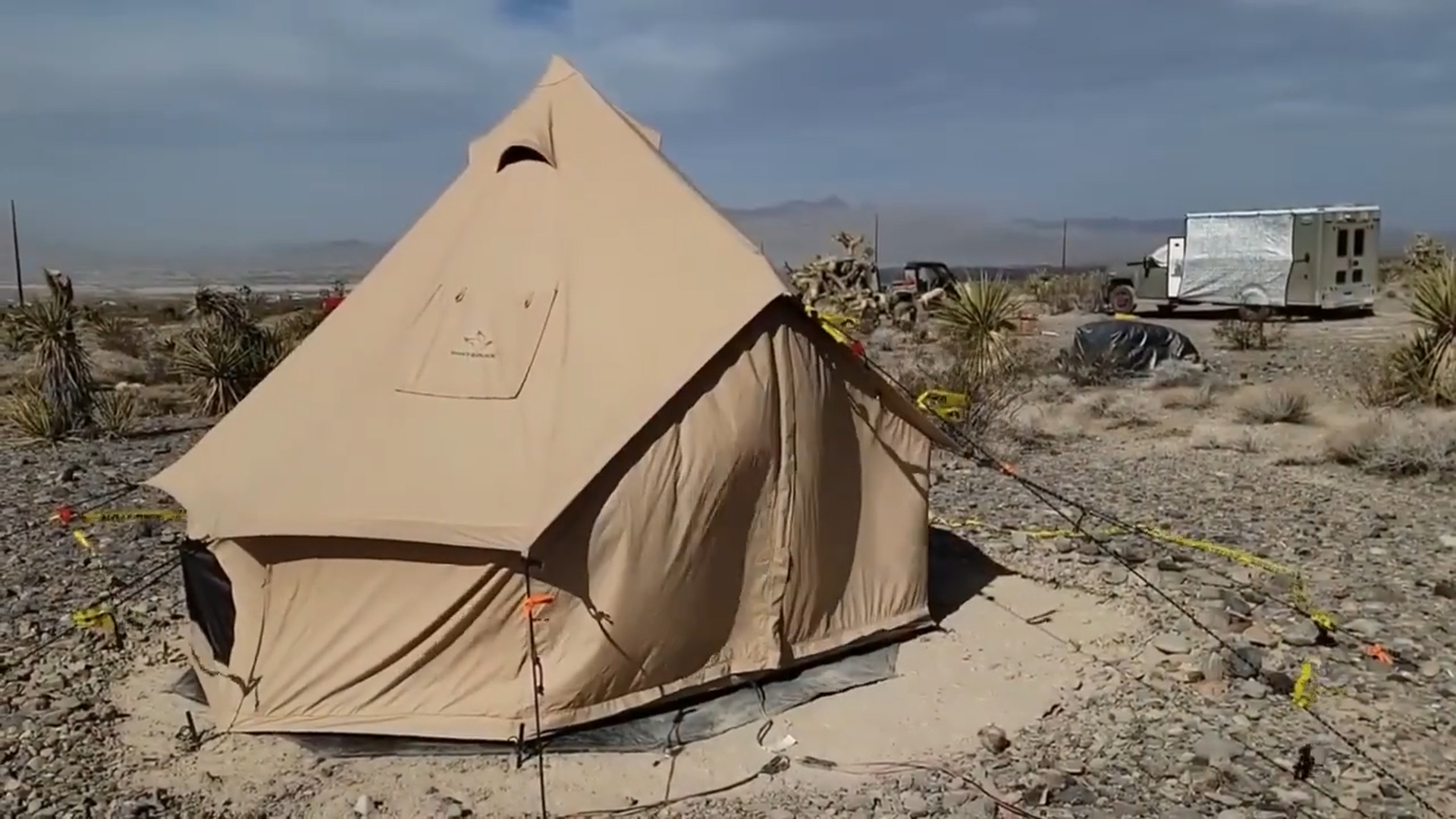 Bell Tent Design
A single pole stands in the middle of the tent, creating the main support structure and forming the tallest part of the tent. There's also a pole that props open the doorway. The wall around the bottom gives you more inside headroom. The curve reduces the amount of wind that batters it, when flowing over and around. All the pins and stakes make it stand in place. It won't blow down on you in the middle of the night.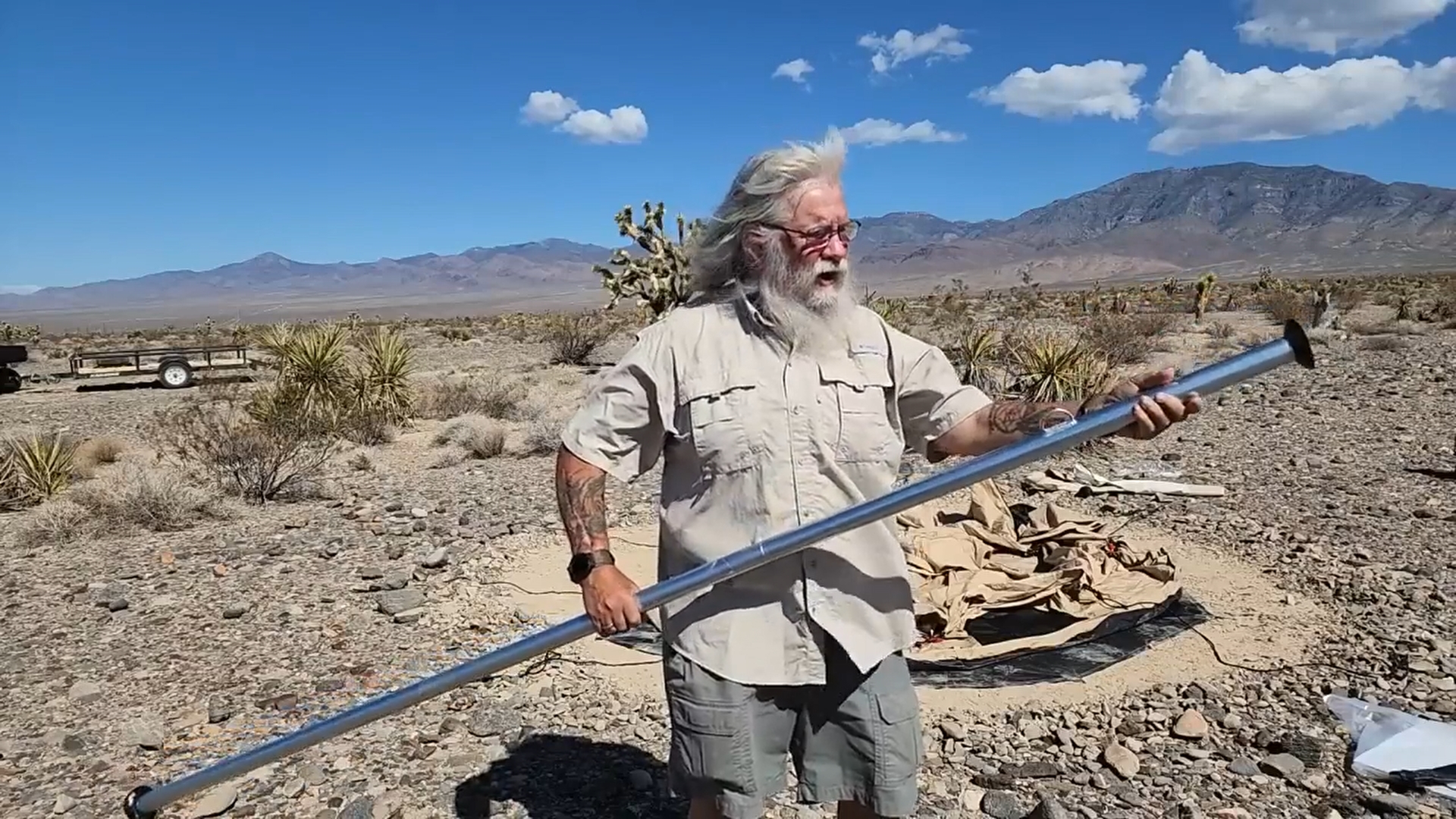 Setting it Up
In my first set-up, I messed up and tightened the outside lines too tight before making sure the pole was straight up and down. I had to loosen them, straighten the pole, and then tighten them again. No big deal. Follow the 4-step instructions that are included with the tent and setup will get easier with experience.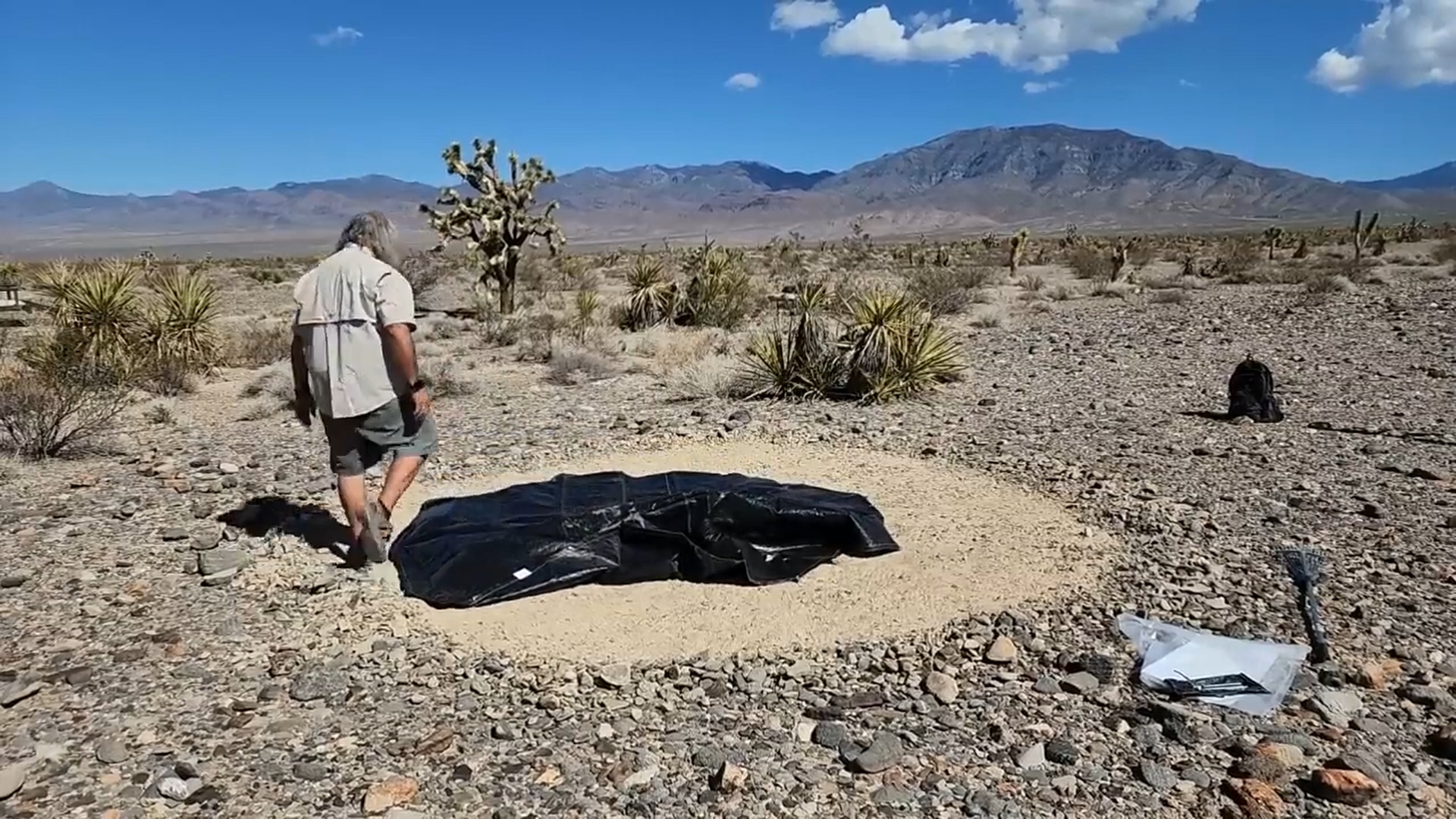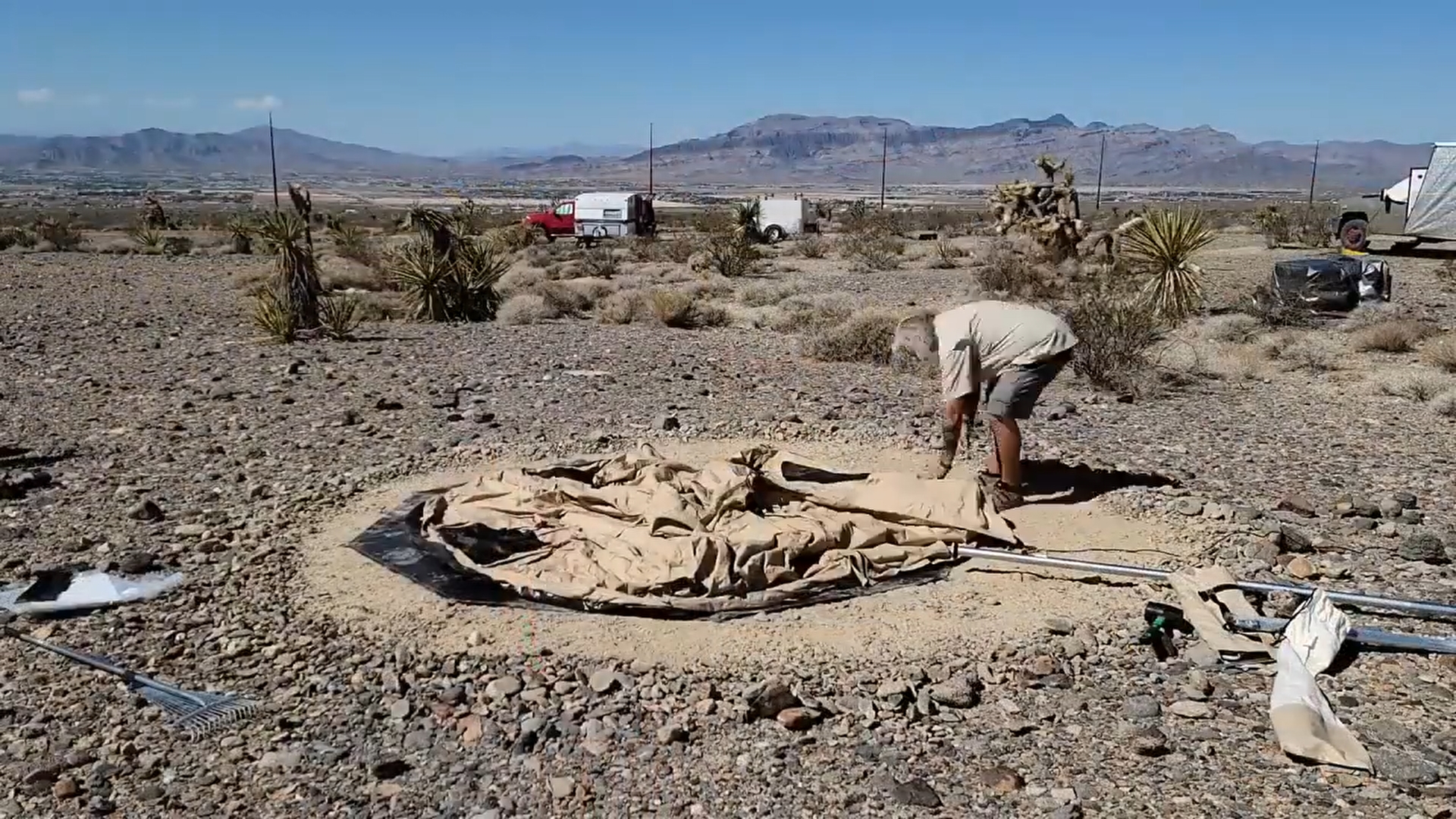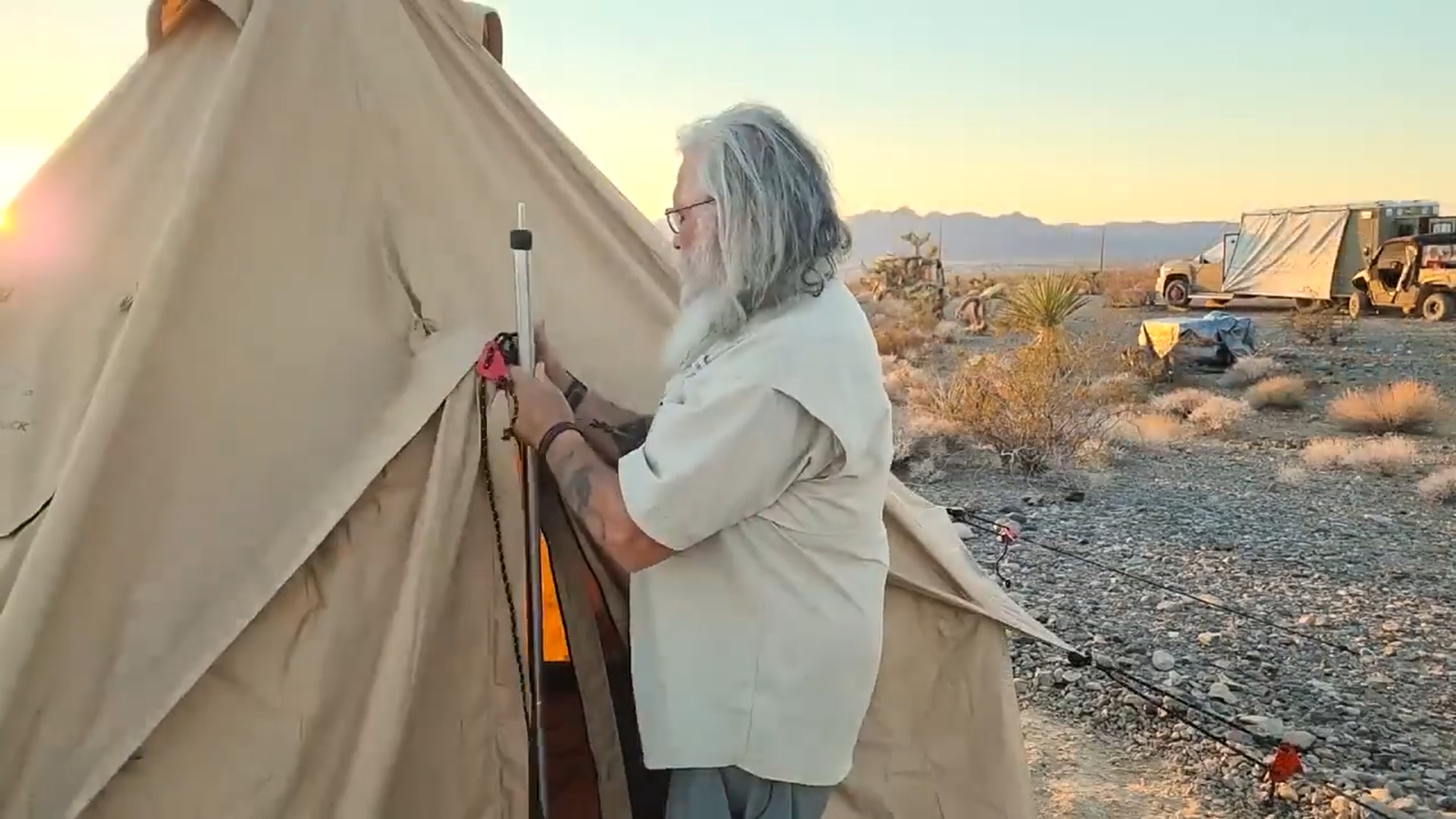 For heat, tents with stove jack and optional stove (like this one) can often keep the tent warmer, easier, and cheaper than you can your van or car. If you're in the forest, you have an unlimited fuel supply right in your backyard.
RELATED POST: The Hot and Cold of Living in a Tent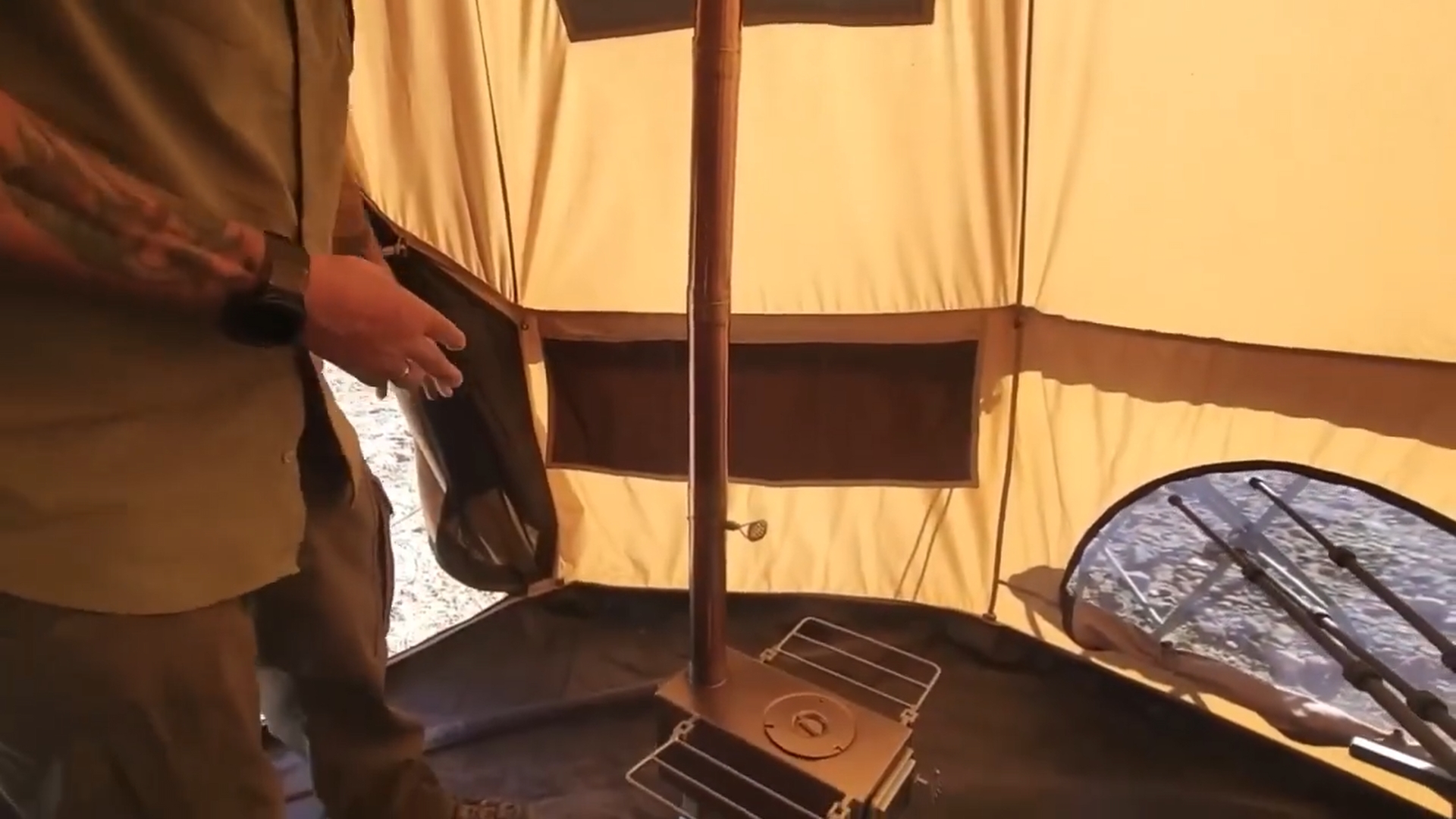 10 Feet of Inside Space
It is small at 10 feet. You'll want to give that some thought. The most common size is 13′, then 16.5′. I bought this because it's smaller, lighter, and cheaper. For a single person, this might be right for you. For two people, this is too small.
I have a cot and table in here as well as some things I'm testing. It was even difficult to get photos and videos showing the inside because of its size. For me, and what I'm using it for, it works.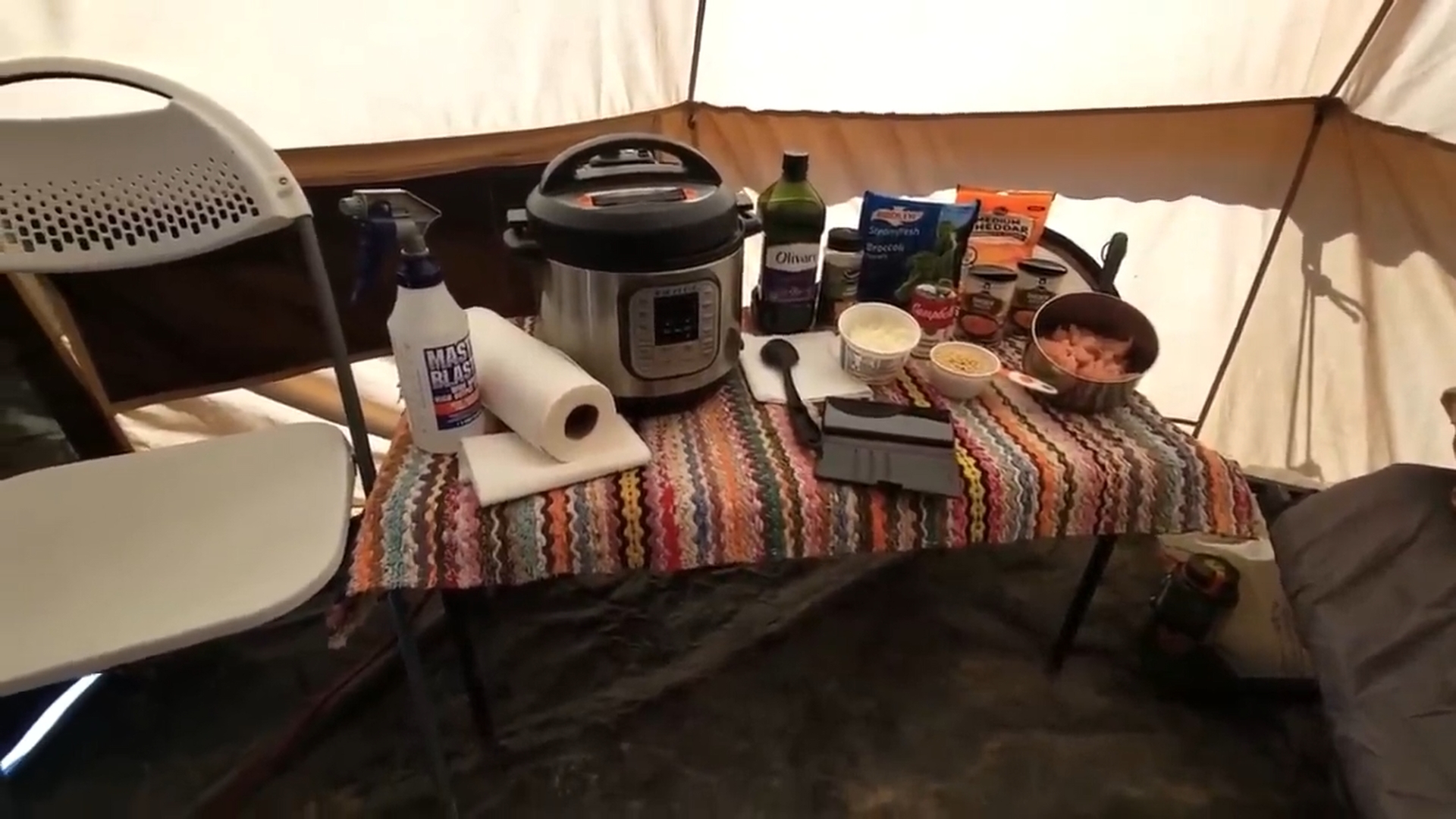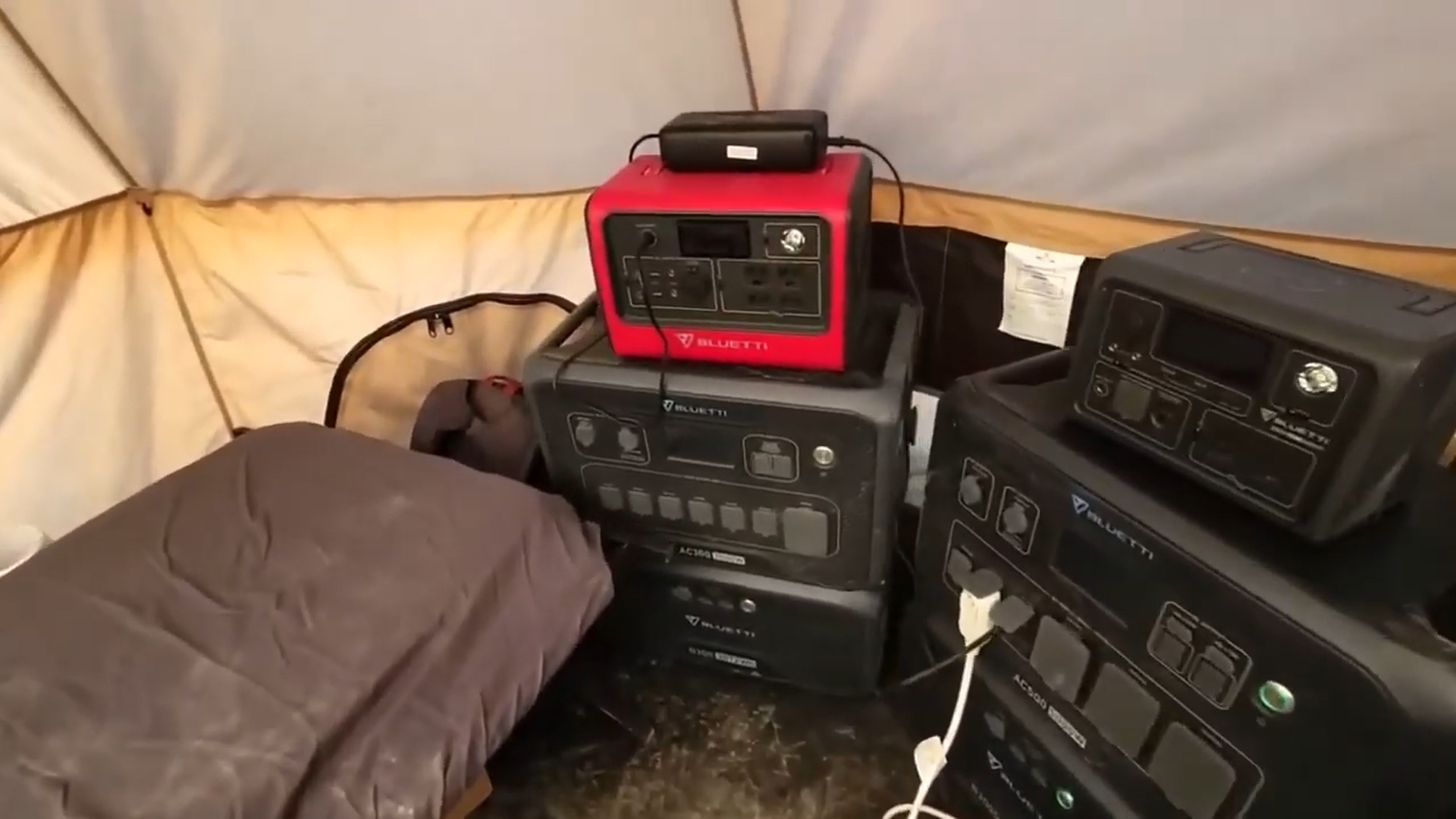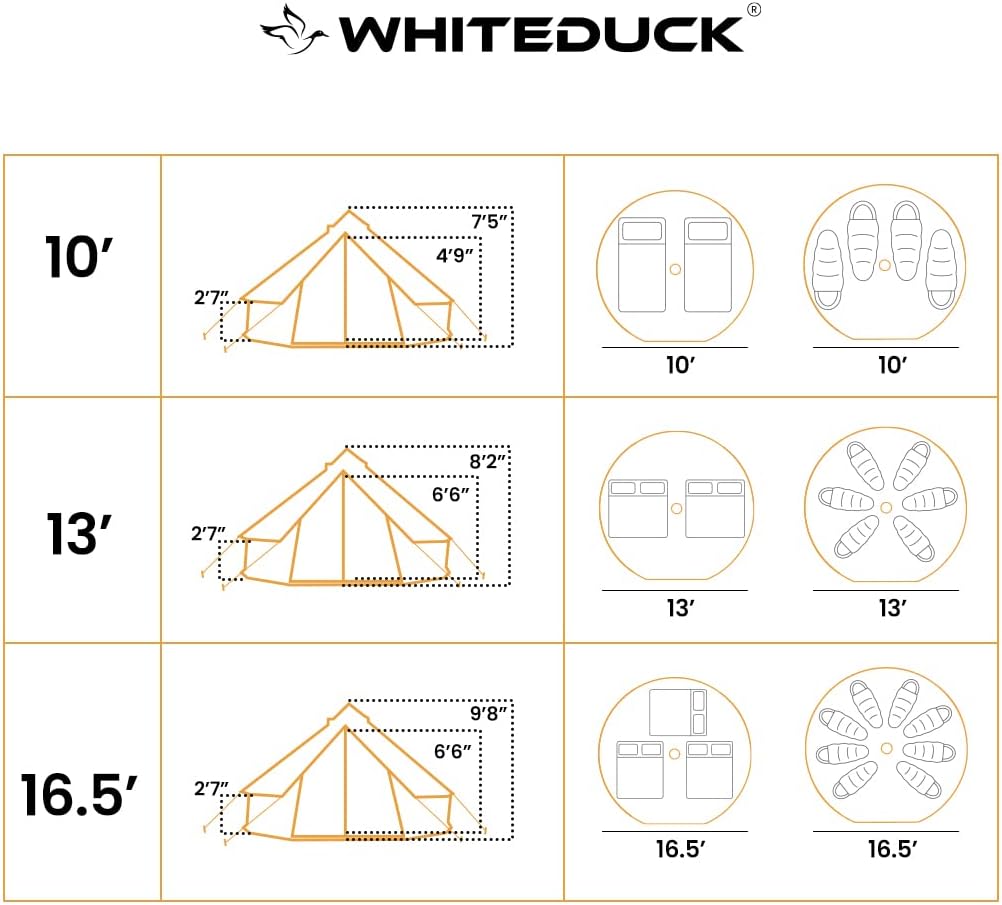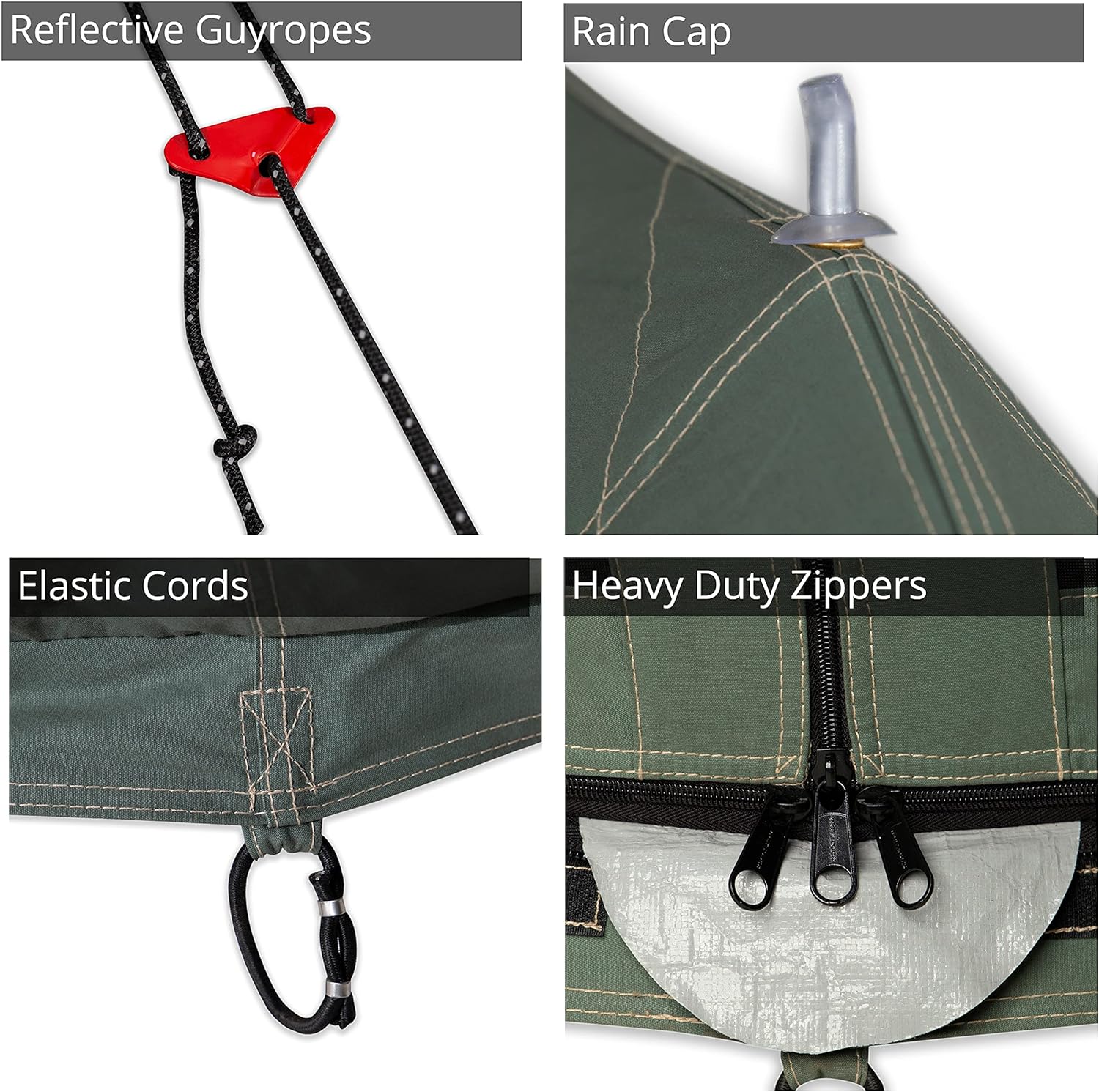 This tent is a quality product. The zippers are good, the stakes are unusually good, and it handles the wind well. I don't hesitate to recommend it to you. It is expensive, but the quality is there to justify it.
Another canvas tent option is the more known cabin tent which is rectangular in shape. The round bell isn't nearly as space-efficient as the rectangular ones.
The same-sized rectangular tent will feel much bigger inside. They have headroom everywhere and not just in the center.
I plan to buy and review a different canvas tent in the future. In the meantime, check out this Springbar tent tour! I think you'll like it!