I always suggest that before shopping online for items you might need, be sure to have an emergency fund of at least $3000 first and foremost! Then check for the items you need at home or at a thrift store. Once you know you have the financial means and still want to buy what you need online..
I have all of my most useful & recommended products for nomadic living linked here below from my Amazon Store.
You Can Visit My Amazon Store Directly Here:
(CheapRVliving is a participant in the Amazon Services affiliate program. As an Amazon Associate CheapRVLiving earns from qualifying purchases)
On this webpage below, we will take a look at some of the most pragmatic, essential and useful items for living on the road! 
ALL THE ITEMS IN THIS STORE ARE PROVEN BY THE NOMAD COMMUNITY: Many of these are items I own and use, however, a few are popular items that I've added just to make them easy for you to find. The important thing is you can order from the store knowing these are useful and high-quality items with excellent reviews from the nomad community.
Click On Photos to See Items.
These are high use items that I think everyone would benefit from.
PORTABLE POWER SYSTEMS
I highly recommend Bluetti Products for their quality and innovation.
Here are some of their most popular and highly recommended power stations!
BLUETTI Portable Power Station EB3A, 268Wh LiFePO4 Battery Backup w/ 2 600W (1200W Surge) AC Outlets, Recharge from 0-80% in 30 Min., Solar Generator for Outdoor Camping (Solar Panel Optional)
BLUETTI Portable Power Station EB70S 800W (Peak 1400W) Solar Generator 716Wh Backup LiFePo4 Battery Pack with 4 110V AC Outlets, Widely Use for Camping Outdoor RV Power Outage Home Off-grid
BLUETTI Portable Power Station AC200P, 2000Wh LiFePO4 Battery Backup w/ 6 2000W AC Outlets (4800W Peak), Solar Generator for Outdoor Camping, RV Travel, Home Use (Solar Panel Not Included)
BLUETTI AC200P Portable Power Station with Solar Panel Included 2000W Solar Generator Kit with 3pcs 200W Foldable Solar Panel, 6 120V AC Outlet Lithium Battery Backup for Home Use Outdoor Camping Van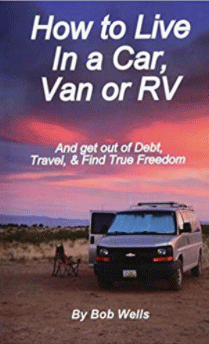 MY BOOK:
How to Live In a Car, Van or RV—And Get Out of Debt, Travel and Find True Freedom
Highly recommended! (How's that for humility?)