We compare five folding solar panels
"Hey, what if we made larger, more powerful folding style solar panels?"
For those who can't or don't want to mount rigid solar panels to their vehicle, I had been recommending suitcase panels. They are typically two rigid 100W panels hinged together with a charge controller and legs for tilting. But they're kind of heavy and bulky. And if you're in a small vehicle, then there's probably just not room for them.
I had also been recommending flexible solar panels because they were light and easy to handle, and their bendability expanded your storage options. But I'm no longer a fan of flexible  solar panels because they've proved to be unreliable.
If your power needs were very low, like if you only needed to charge your USB devices, then I recommended small, low-wattage folding solar panels.
Now there's another option. It's as if several solar panel makers thought, "Hey, what if we made larger, more powerful folding style solar panels?"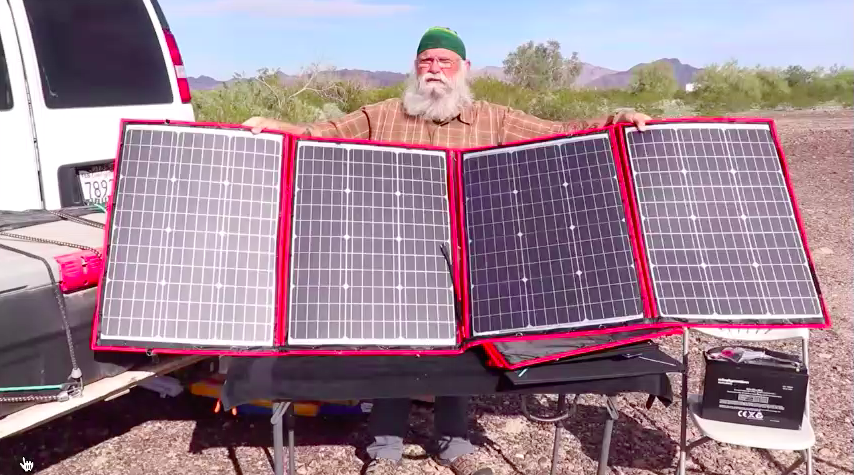 I got five panels from three companies to try out. They range from 80 Watts to 200 Watts, and include a charge controller and cables. They're much lighter and compact than suitcase solar panels. And the cases provide a degree of protection flexible solar panels don't have.

The absolute bargain of the group is the 80W panel from Dokio. For about US$100 you get a ready-to-go system. Just add a deep cycle battery. The 100W and 200W folding panels are also excellent deals. We have no previous experience with Dokio, but their prices suggest something less than top quality. The controller is an unknown factor and the fabric cases seem less sturdy than the other brands. We'll have to see how well they hold up long term. We also know nothing about the quality of their customer support. In our testing, the Dokio panels produced less amperage than expected.

Renogy has proved to be a reliable brand with good customer support. However, they no longer offer the 100W version of their foldable solar panel that we tested. They still have a 50W version, but it costs as much as the 80W Dokio. The arithmetic of power, price and quality makes it a maybe.
Acopower is also new to us. Their 105W foldable panel seems very well made and produces the power we expect. But it's about twice the price of the 100W Dokio. Is the Acopower panel that good? Is the Dokio that bad?
DOKIO FIELD TEST
We used the 200W Dokio for about four months, taking it out, setting it up and packing it away. Then we gave it to our friend Tim who lives in a car and needs to use a CPAP machine. That means he uses power all night every night as he sleeps. After three weeks of use, with a 105Ah battery, Tim reports, "My voltage at night is about 13V, and when I get up in the morning it's about 12.5V after eight or nine hours of sleep. So it's been working great. I can go multiple days on one charge, and with the 200W panel, it charges in about two to two-and-a-half hours. So all I need is one day of sun and I'm good to go for multiple days."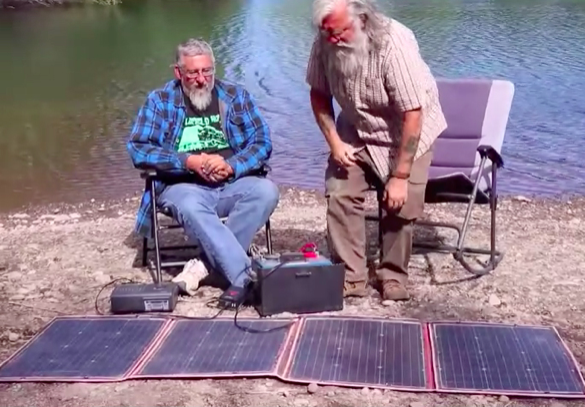 Tim also said he liked the compactness of the unit and that it's easy to fold up and stow in the car. He liked that the folding panel weighs a lot less than suitcase panels, especially since he has some mobility limitations.
We asked if it was easy to figure out and use. "The Dokio setup has a pouch on the panels that fit the charge controller and cables. So all you do is carry the panels over to your battery and hook it up (with the clips). It's a simple as that."
Asked if he would spend his own money on a Dokio folding solar panel, Tim replied, "Absolutely. If these burned up in front of me, I would definitely replace them."
RENOGY FIELD TEST
We gave the Renogy 100W folding solar panel to our friend Trisha a little over a year ago. She reports, "This is my only solar, but I'm not a big power user, so this works vert effectively for me. Also, I have some strength issues, so a heavier one would not work for me. This one is very light. When I travel, this all rolls up, it rides up front, and I'm happy with it.
The fabric covering has held up fairly well, with only a little wear on the edges. It might be a good idea to cover those edges with duct tape for longer life.
"I had to change out the controller and cording, because it was just not robust enough. So my friend Maggie, who works for HOWA on various things, swapped out for this controller, and we put some longer cords on it." Since Renogy uses industry-standard MC4 connectors, adding longer cables was just a matter of clicking them together. The extended cables allow Trisha to park in the shade yet have the solar panel in the sun. Maggie also mounted the controller to a piece of wood and added clips to the cables to eliminate strain on the connections to the controller. Great idea! The new cables also have beefier alligator clips, an improvement over the surprisingly small ones Renogy supplied.
When asked if she would recommend a folding solar panel to someone who was just starting out, Trish answered, "For a beginner like me, it works great."
We'll keep checking back with Trish and Tim to see how long these folding panels will last. Aside from replacing a charge controller (about $15),  things look good.