Quartzsite "campgrounds"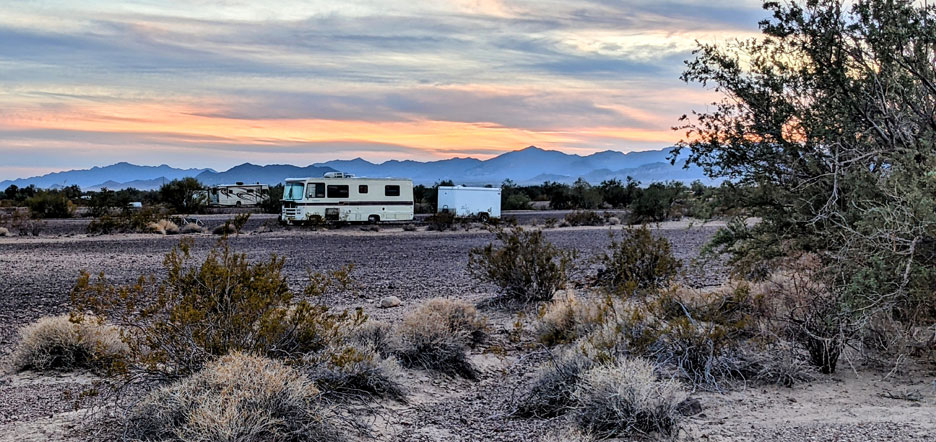 Many people coming to the Rubber Tramp Rendezvous have never been to Quartzsite—or even the desert Southwest. Some of them ask about campgrounds, perhaps picturing numbered spaces with picnic tables, a barbecue, maybe restrooms with running water. That's not how it is.
Quartzsite is surrounded by public land managed by the Bureau of Land Management (plus some private land and Arizona State Trust land, and farther out, a US Fish and Wildlife preserve, and tribal land). There are no campgrounds, in the traditional sense. Just open public land where you pick a spot that looks good to you. The Long Term Visitor Areas are the closest thing to campgrounds. They have vault toilets, dumpsters, water, and septic dumps in strategically placed locations. But you still just find your own spot out among the cacti, mesquite, creosote bushes and RVs.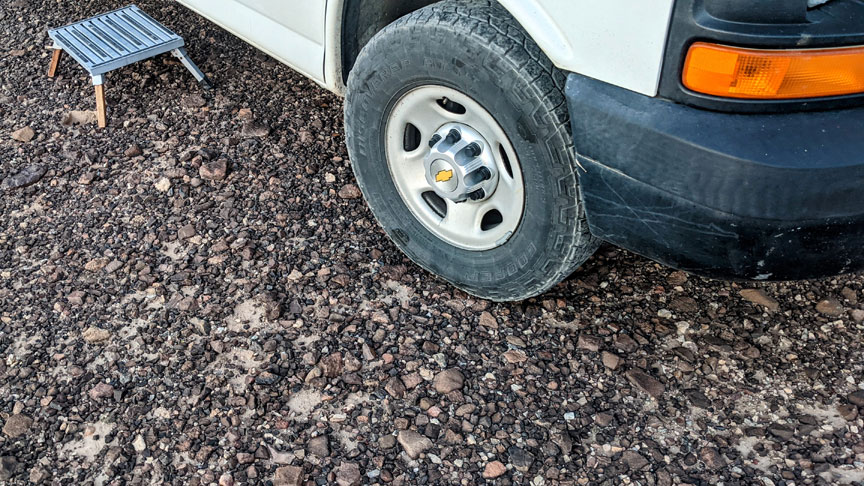 Some people hear "desert" and think "sand." But most of the desert here is an alluvial plain; a layer of rocks and gravel that washed out of the mountains eons ago forming what's often called desert pavement. That means there's miles and miles of fairly smooth, level, hard-surfaced space. That also means it's tough to drive ordinary stakes into the ground. Around here they use gigantic nails or sharpened 18-inch pieces of rebar. And they drive them with sledge hammers.

If you've never boondocked on your own, Quartzsite might be a less intimidating way experience it. It's sort of Boondocking Lite. You still have the experience of needing to be self-sufficient, but you're not alone, and a town is right there with most of the things you'll need (and some things no one needs, like life-sized steel dinosaurs).
If you want or need to camp with hookups in Quartzsite, there are several RV parks in town to suit your needs.
So come and enjoy something that might be totally new to you. (I'm lookin' at you folks who've never been west of the Mississippi.)